Olive Leaf
The olive leaf symbolizes peace and victory. I conceived the collection with Paloma Picasso at her garden in Marrakesh, which grows over 70 olive trees. I listened to Paloma's first-person account of how symbolic the olive leaf is. Her father Pablo Picasso drew the iconic 'Dove of Peace' for the First International Peace Conference after the carnage of World War II. He then later named her Paloma which means dove in Spanish. Dove with olive branch has become the emblem of world peace and hope. I came away constructing a multi-layered meaning to a simple olive leaf. To me, this collection is a perfect embodiment of Paloma Picasso the person and persona. The Olive Leaf launched in 2013. But because of its global success, extensions are added, making the collection evolve as it grows.
Venezia-"Luce"
This collection was inspired by the beautiful city of water. The spiral tear drop shape allows light to bounce through, creating prismatic waves. This collection literally means Venetian Light in Italian. The design is abstract but I believe it captures the essence of Venice.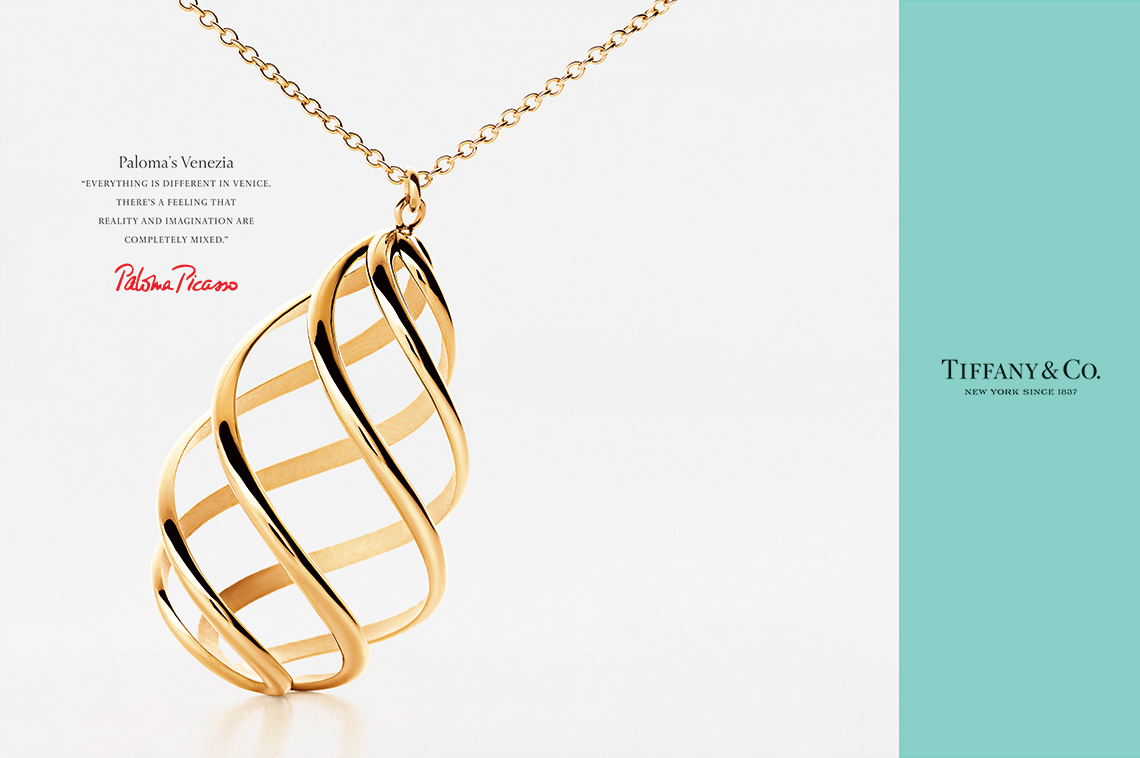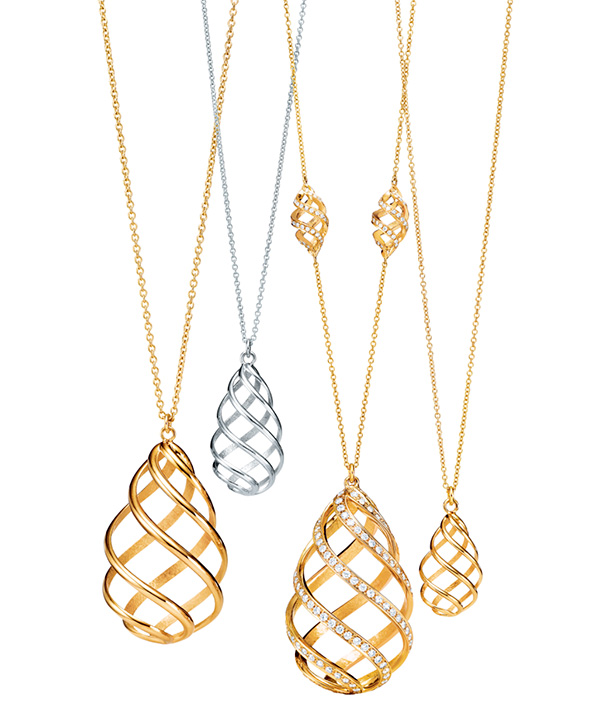 Venezia-"Goldoni"
Tiny island of Goldoni houses over 700 small bridges. My designs were inspired by their cast iron work. Venezia-Goldoni was first launched in Shanghai as a traveling collection. It drew wide attention from the industry as well as individual collectors. Due to its popularity, all one-of-a-kind statement pieces were sold.
Villa Paloma
This is the first nature-themed collection of Paloma Picasso. Rooted in research, I learned that the beloved paisley pattern of today is actually a stylized palm leaf. The palm tree, in many cultures, is regarded as the 'tree of life'. I struggled with the task of building a collection to embody the word 'life'. My solution was simple. I designed the palm leaf pattern enclosed in a heart silhouette. The heart became the essence. This silhouette does not represent sentimentality, our emotions, or even falling in love. The heart in this case symbolizes the hearth of a person, the center that makes her who she is. That without it, she would become lifeless.